Automatic Watch Winders
If you own more than one high-quality automatic wrist timepiece, you may benefit from our watch winder. Two problems arise when you aren't wearing an automatic watch on a regular daily basis. First, the fine oils within the movement can become stale, affecting timekeeping performance. Secondly, it will eventually wind down and stop, requiring you to manually reset the watch. This can involve tedious resetting of several functions on a perpetual calendar timepiece.
Since 1990 Superior Watch Service Inc. has been offering a simple solution to keep your watches on time even when you aren't wearing them. We have been pioneers in bringing automatic watch winders to the consumer market and carry a selection of quality German-made watch winders to fit your needs.
Windmill Watch Winders for Six Automatic Watches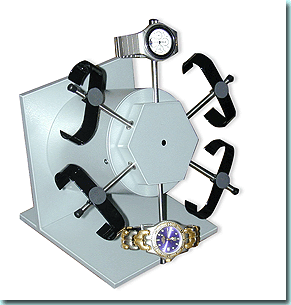 Superior Watch Service Inc. is the exclusive dealer in the United States for the Windmill Watch Winder.
solid aluminum construction
compact tabletop model, measuring only 9.5"W x 6"D x 10"H
rotatable rubberized metal arms for easy mounting of watches
compressible watch arms accommodate most, if not all, wrist size watches
robust & quiet synchronous motor rotations on center wheel ball bearings
60 Hz motor, 1.2 RPM / center wheel, 5 RPM / spoke axis
winds all automatics via 360 degree turns of main wheel and spoke axes
AC adapter included
precision crafted and assembled in Germany, motor made in Italy
guaranteed for one year against manufacturing defects
Why do we call it the "Windmill?" Click here.
Price: $850.00 plus $25 ground shipping (within the continental US) and applicable sales tax for NY residents.
Due to the current strength of the Euro we cannot guarantee this price after 3/11/10. Order now for the holidays.
Cyclomatic-Uno and Cyclomatic-Due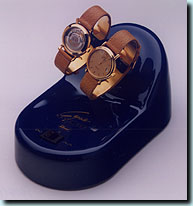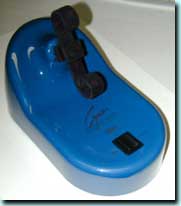 The Cyclomatic series of winders are compact, practical and functional. The Cyclomatic-Due will accommodate two watches, while the Cyclomatic-Uno is ideal for a single heavier watch.
Made with a polystyrene case, these winders have robust motors and a single spindle with protected arms. They are powered by either four "C" batteries or 110 volt AC and will keep your watch or watches fully wound and ready to wear without resetting the time and date. They are self-alternating -- winding 36 revolutions clockwise, waiting 30 minutes, then 36 revolutions counterclockwise, waiting 30 minutes, and so on. When using batteries, a Cyclomatic winder will operate for about two years. Even better, overall dimensions are only 4.5" wide, 8" deep, and 6" high, allowing one to fit easily into a safe or safe deposit box. These products are guaranteed by our company for one year and are highly recommended for anyone who loves fine watches. Batteries and AC adapter are included. Made in Germany.
Cyclomatic-Uno: $500.00. Cyclomatic-Due: $525.00.
Please add $20 for ground shipping (within the continental US) and applicable sales tax for NY residents.